SOUTHERN CALIFORNIA
WILDFIRES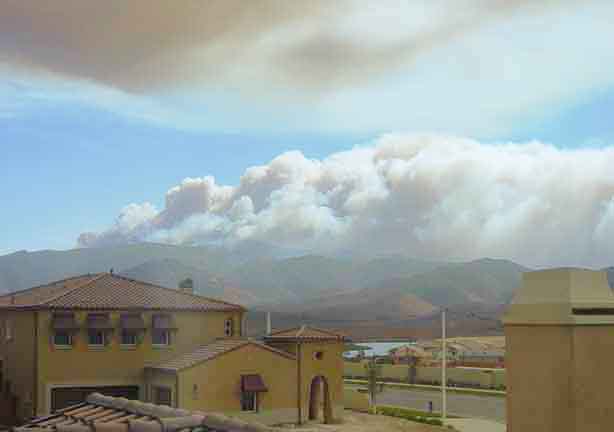 Smoke from the San Diego wildfires
On October 25, 2003 the Southern California region was hammered by wildfires that were the worst in the States history. San Diego was hit particularly hard by the Cedar and Otay fires. The fires burned some 400 square miles or 300,000 acres, roughly half the size of Rhode Island. The fires not only destroyed over 500 homes but caused heavy damage to the utility infrastructure including the telephone network. Over 400,000 feet of aerial cable and 300,000 feet of fiber optic cable was damaged and 400 telephone poles were burned. More then 3,000 technicians were brought in to repair the facilities. No central office was damaged but numerous ones had to rely on emergency generators for over a week. Temporary microwave service was established in the Dehesa and Crest areas because of damaged outside plant. The temporary microwave service was established from mobile antennas to the El Cajon Central Office (See pics). AT&T even dispatched the Network Disaster Recover Team in a limited fashion with the deployment of a mobile Satellite truck in Ramona that allowed residences to make free calls until service was restored.
Read article from North County Times on SBC response to fire: SBC wildfires PDF File
Click on pic for larger size

Flames burning in the Otay Fire.

Equipment at the El Cajon CO for service restoration.

Another view of the Radio Operations "Emergency Restoration Vehicle"

Temporary microwave dishes pointed toward Crest.

Closer view of microwave dish.

Damage in the Scripps area which lost 350 homes. Note burned guardrail wood posts.

An unfortunate victim of the Cedar Fire in Scripps Ranch. There was a Porsche in the garage.

Another result of the sweeping fires.
Back to Main page: Telephone Central Offices